Mission
To help our community set a course to live well after 55.
Vision
A community where every person 55 and over is empowered to live life to the fullest.
Values
Respect, compassion, interdependence, excellence, stewardship, and advocacy.
2021 Board of Directors
President Richard Roell, ChFC, FFSI, RIA, MBA, Peak Financial Partners
Vice President Gretchen Roberts, MSN, NEA-BC, OhioHealth
Secretary Alice Frazier, MD, Physician, retired
Treasurer Wren Kruse, JD, Collins & Kruse, LLC
Adrienne Corbett, Homeless Families Foundation, retired
Becky Cornett, PhD, The Ohio State University Wexner Medical Center, retired
Carlos Crawford, MS, JD, Crawford Glankler, LLC
Karen Crosman, Ohio Wesleyan University Lifelong Learning Institute
Jack Fette, Olentangy Local School District
Roger Lossing, CPA, JD, CFP, First Commonwealth Bank, retired
James Mendenhall, United Way of Delaware County
Dennis Mowrey, Schneider Downs, retired
Frank Pinciotti, Ruscilli Construction Co.
Carolyn Slone, Realtor, retired
Jane Taylor, AARP Ohio, retired
Michael Tucker, JD, JPMorgan Chase & Co., retired
Roger Van Sickle, Fahey Bank, retired
Dennis Wall, American Electric Power
Executive Leadership
Chief Executive Officer Fara Waugh, LISW-S
Chief Financial Officer Kimberly Clewell
Director of Community Programs Amy Schossler
Director of Client Services Karen Waltermeyer, LISW-S
Director of Communications & Development Alison Yeager
A Message from Our CEO
2021 began in the same pandemic-ridden haze in which 2020 ended. As COVID-related challenges continued, our organization, like so many others, was left to wonder if "normal" would ever return.

I am proud to say that SourcePoint—and the older adults we serve—persevered.

Our dedicated staff and volunteers went above and beyond to ensure the health and well-being of those we serve. With the implementation of vaccines came hope, a light at the end of the tunnel. SourcePoint made continued changes—and progress—throughout the year to keep staff and visitors safe.

We helped older adults without internet access register for their COVID vaccines, and assisted the local health district in the delivery of vaccines to homebound seniors.

We extended our in-home client outreach to include care packages, check-in calls, and milestone birthday celebrations. With the support of grant funding, we expanded SourcePoint's "back porch," allowing more outdoor programming for enrichment center guests. Day trips resumed and our beautiful On-the-Go van was able to truly go!, taking resources and falls prevention programs throughout the county.

As always, I remain humbled by and grateful to our community. Thanks to your support, we continue to serve the needs of Delaware County's older adults today—and those we will serve in the future.

Fara Waugh
Chief Executive Officer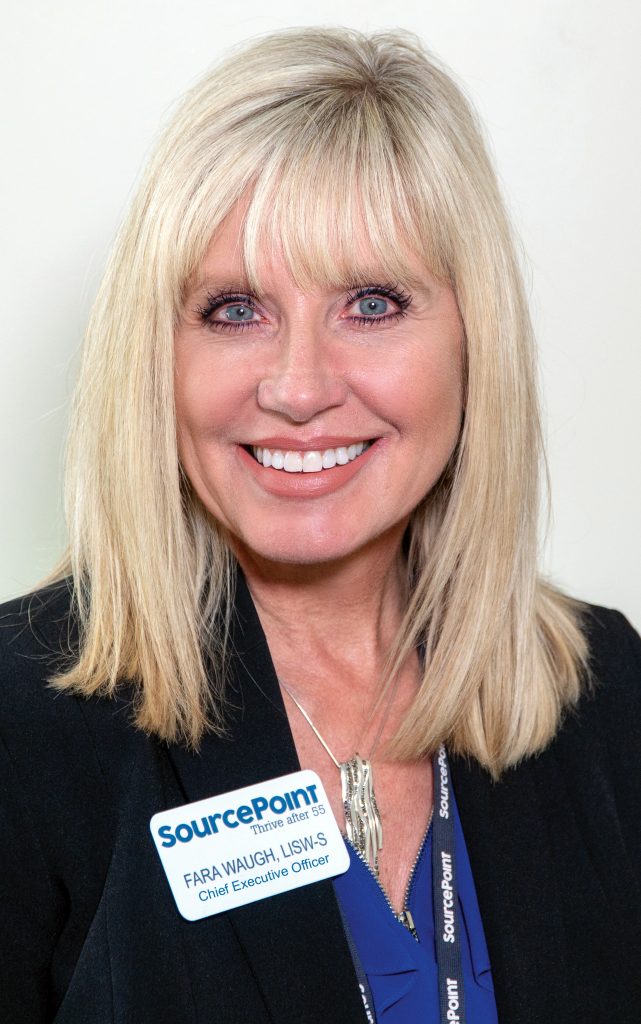 3,951
ComPASS users engaged in community programs
1,917
older adults benefitted from in-home care services
150
caregivers received support via groups and workshops
SourcePoint is one of a kind. No other county has what we have in Delaware County, they offer so many different things!

My care consultant checks on me regularly. She is always friendly and offers help. All I have to do is call.

I love that there is a facility just for 55-and-older people. I always felt out of place at the Y or gyms, SourcePoint makes everyone feel welcomed.
On the Go!
While SourcePoint's headquarters and enrichment center are centrally located in the county, we also strive to bring community programs to you!

Our Go Van brought programs and resources to 12 locations throughout Delaware County.

In addition to Cafe 55 in our enrichment center, we have community cafes in Georgetown, St. Michael's, and White Lily Chapel.

We have care consultants, licensed professionals who work with in-home care clients, stationed at Georgetown, Arthur Place, and Ashley Villa, as well as at SourcePoint's south office at Polaris.

SourcePoint also embeds service coordinators with the Delaware Fire Department and Delaware County EMS to assist older adults throughout the county.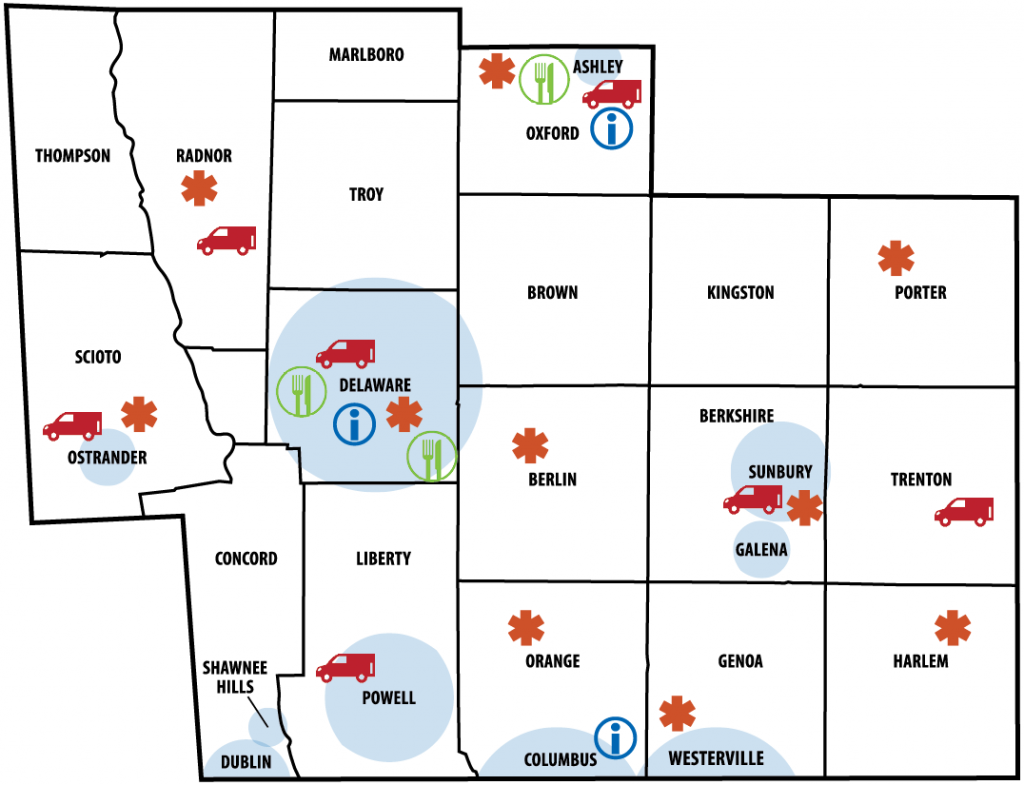 2021 Financial Report
The financial data presented was prepared by management of the organization and has not yet been reviewed by an external auditor. The 2021 independent financial audit will be available later in 2022.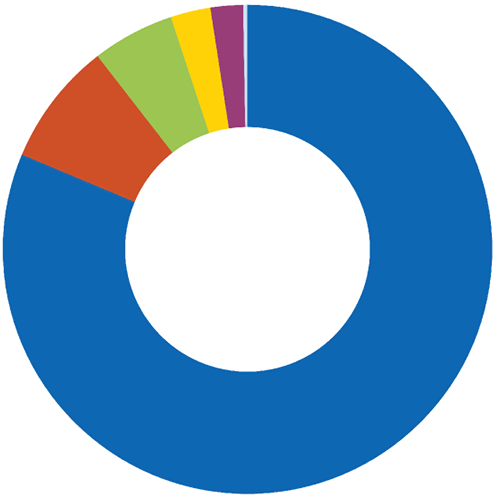 Revenues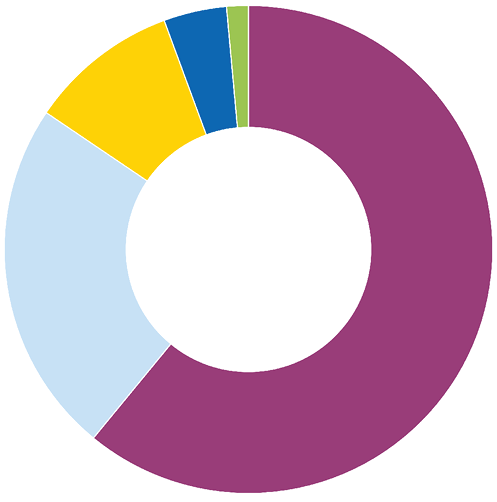 Expenses
| | | | |
| --- | --- | --- | --- |
| ● | 81% | Property Tax Levy | $9,708,685 |
| ● | 8% | Grants | $976,311 |
| ● | 5% | Service Fees | $647,749 |
| ● | 3% | Donations | $315,063 |
| ● | 2% | Investment Income | $255,837 |
| ● | 0% | Other | $34,510 |
| | | Total Revenues | $11,938,155 |
| | | | |
| --- | --- | --- | --- |
| ● | 61% | In-Home Care | $6,583,967 |
| ● | 24% | Community Programs | $2,541,659 |
| ● | 10% | General/Administrative | $1,071,117 |
| ● | 4% | Communications/Outreach | $450,640 |
| ● | 1% | Development | $155,443 |
| | | Total Expenses | $10,802,826 |
Community Grants
Each year, SourcePoint provides funding to other nonprofits as an efficient way to address the needs of our community's older population. These grants foster a collaborative system of care for older adults and family caregivers. In 2021, SourcePoint's board of directors approved $645,670 in funding for 22 aging services programs:
The Alzheimer's Association: $47,000 to provide supportive services to individuals facing Alzheimer's or a related dementia diagnosis.
Cancer Support Community: $6,800 for community programs for those living with cancer and their families.
Catholic Social Services: $30,000 for the Senior Companion Program, which prevents social isolation among homebound adults.
Central Ohio Area Agency on Aging: $10,000 for the Volunteer Guardian Program, which advocates for the rights of older adults who are unable to do so themselves.
Central Ohio Symphony: $2,485 to provide transportation services for older adults to and from symphony concerts on campus.
Common Ground Free Store: $10,000 to support a portion of operating expenses for the agency providing food, clothing, and household items to low-income county residents.
Delaware County Transit: $201,168 to support local public transportation, including FLEX transit and paratransit services.
Delaware Speech and Hearing Center: $86,309 to expand and enhance hearing and speech health services to older adults and their caregivers.
Grace Clinic: $31,000 to expand hours of operation to increase accessibility of low-cost health care and services to rural areas of the county.
HelpLine of Delaware and Morrow Counties: $45,000 for continued support of the Connections Volunteer Program; $37,500 to support management of volunteer matches and referrals for the Senior Companion Program; and $5,000 to expand Sages & Seekers, an intergenerational program that brings together older adults and high school students.
Humane Society of Delaware County: $10,000 for the Pet Care Assistance Program, which provides vaccines, medication, surgeries, and grooming for up to 100 animals residing in 50 older-adult households.
Lutheran Social Services: $12,500 for direct-food purchases for older adults at the local food bank.
Main Street Delaware: $7,500 to create an age-friendly environment at the new City of Delaware Welcome Center, including accessible parking, sidewalks, and wheelchair ramp.
National Alliance on Mental Illness Delaware and Morrow Counties: $19,875 to support recovery and educational programming for individuals with mental illness.
The OhioHealth Foundation: $26,033 for the Driver Rehabilitation for Instruction and Vehicle Education (DRIVE) program intended to improve older driver safety.
Ohio Wesleyan University: $10,000 to improve access to the Lifelong Learning Institute's adult educational programming.
People In Need: $30,000 in emergency assistance to older adults, including prescription, utility, and rent assistance.
United Church Homes: $7,500 to provide information and referral services to low-income seniors on affordable housing waitlists.
VOICEcorps Reading Service: $7,500 to increase access to and awareness of print news and information through an audio format.
Zion African American Methodist Episcopal Church: $2,500 to expand a singing program to nursing home residents in the county.
You Make it Happen!
As a nonprofit organization, SourcePoint has proudly served older adults and caregivers in Delaware County, Ohio for 30 years. We could not fulfill our mission without you.

Each donation to SourcePoint makes a difference. With every gift, you support in-home care services like Meals on Wheels and personal care—services that help local seniors live safely and independently at home, where they want to be. You support community programs like fitness classes, Medicare counseling, and caregiver support—programs that help us all live healthy as we age. You support your older family, friends, and neighbors.

It's thanks to people like you that Delaware County is the best place to thrive after 55!
Founders Club
Recognizing annual gifts of $240 or more.

Directors Club
Recognizing annual gifts of $1,000 or more.

Thank You to Our Financial Partners