I remember the moment I found my purpose. A friend asked if I would sub her Senior Yoga class. Her advice was, take it easy on them. Halfway through that class, I asked them to, take it easy on me! Never had I taught a class with so many engaged students. They reminded me of my grandparents: kind, thoughtful, reassuring. Yet, they had a childlike energy, too: curious, attentive, with loads of questions. Though I had already been practicing yoga more than half my life, I left class feeling connected and fulfilled with a deeper meaning of not just yoga but myself.
That class was the first of a series of moments – now spanning over decades – that defines who I am today. From my senior students:
I learned listening and deep listening
I learned gratitude and daily thanksgiving;
I learned about physical, emotional, and mental burdens;
I learned assurance, reassurance, and confidence; and
I learned that so many older adults feel invisible, are viewed negatively, and feel that society disempowers them.
All these things energized, motivated, and galvanized my purpose – which was and remains learning about, connecting with, and defining Active Aging. I sought out classes and college courses, attended seminars and symposiums, garnered certificates and degrees, all to learn the diverse needs and abilities, goals and aspirations that inspire older people to live resiliently.
Then, one day, I was a senior. Suddenly, my life purpose included me. I was not just creating change in other people's lives, not just helping them find their own happy, healthy, and whole, but now, I was part of them. This is when my purpose doubled-down on science-based and research-informed fitness and nutrition strategies and honed-in on where I can specifically help.
I help by loving what I do. I apply my passion by:
helping others help their self;
gaining knowledge and sharing the same;
realizing my potential and setting an example through enthusiasm; and
dispelling myths about what Next 50 Living and Thriving After 55 look like.
I am convinced that I am able and capable of significantly improving the quality of my older years by staying active and fully engaged emotionally, vocationally, physically, spiritually, intellectually, socially, and environmentally.
Moving into 2023, I will not be making any New Year's resolutions, which I consider impulsive, short-term statements of change. Instead, I will be making a New Year's goal, which I consider a thought-out, long-term statement of what I want to achieve.
And that goal is Active Aging! My goal is to change the way I age, and along the way, people's perception of what aging means.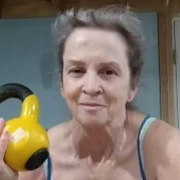 JOIN ME!
Valarie Wright, SourcePoint Fitness & Wellness Manager
Valarie is a certified Wellness Management Leader through the International Council on Active Aging (ICAA); a Personal Trainer, Group Fitness Coach, Senior Fitness Coach, Nutritionist, and Cycling Coach through the International Sports Sciences Association (ISSA), and National Exercise Trainers Association (NETA); and a Parkinson's Foundation Delay the Disease Exercise Provider. Learn more about fitness and wellness classes offered at SourcePoint MySourcePoint.org/enrichment